Innovation Corner
Innovations in the RETAIL field will be in the center of attention at this year's edition. We are preparing a show of innovation and progress with the most important companies on the market, in the middle of the action. In a short time, we will present you only a small part of the star products of the edition, stay in the area.
BRIGHT DISTRIBUTION
Alia Vape Electronic Cigarette Dispenser
SALES WITH STYLE AND EFFICIENCY. Minimalist, compact, and lightweight, the ALIA VAPE disposable electronic cigarette dispenser is designed to provide both an elegant promotional boost and an intelligent sales process streamlining tool. Engineered for ultra-portability, speed, interactivity, and multifunctionality, this innovative device can be easily placed anywhere in the store, mounted independently, or set up on the counter. It comes equipped with a touchscreen and tablet, all to manage sales data more easily and promote products in a more attractive and impactful way. The smart system can verify the age of buyers on the spot, complies with European GDPR regulations, and can be configured according to the needs of the electronic cigarette manufacturer. BRIGHT DISTRIBUTION is waiting for you at the Expo Shop booth to discover and test ALIA VAPE for the first time in Romania, alongside other modern equipment from the GM GLOBAL SOLUTIONS range.
FREYA
Freya Cloud
Efficiently manage your business with Freya Cloud. Freya Cloud offers a complete set of functionalities for efficient management of any Retail business – whether you have one or multiple locations. You can efficiently handle sales, collections, and inventory, easily keeping track of your stock. You also benefit from advanced marketing options and a price scheduler that helps you update product prices on time. Integration with Metro simplifies your procurement process, while integration with Profluo helps you quickly and accurately process and import information from any invoice into the Freya Cloud management program. Moreover, detailed reports provide you with a clear perspective on performance and stocks. With Freya Cloud, it's simple.
myPOS
myPOS Go2 Combo
Flexibility & Functionality – Our payment solution provides the highest level of flexibility and functionality. Combine the power of mobility with the extended capabilities of a charging station: print receipts, extend battery life, ensure connection to a cash register, and much more.
Tehnică vizuală
Luxury Totem Yashi DY-22501
A luxurious touch totem. Its unmistakable style decorates and enriches the space, enhancing the message. Successfully communicates the idea of exclusivity in marketing due to its luxurious design interpretation. An essential device to emphasize the company/brand/product and as a user data collection point. Available in FULL HD versions of 18.5/21.5/23.6 inches. Multitouch – Integrated stereo speaker – Windows 11 Pro.
TRIEURODATA
Zebra Concierge CC6000 barcode scanner
Created as a solution to streamline activity in areas with a high flow of customers (points of sale, information points, etc.), the Kiosk Zebra Concierge CC6000 system realizes applications such as: stock / inventory check in any store, loyalty programs, brand promotion etc. even tipping employees. Thanks to its new Android platform, the Zebra Concierge CC6000 kiosk system provides the user with a familiar and easy-to-use touch experience. In addition, the 10-inch kiosk is simple to install and can be integrated into any district or department.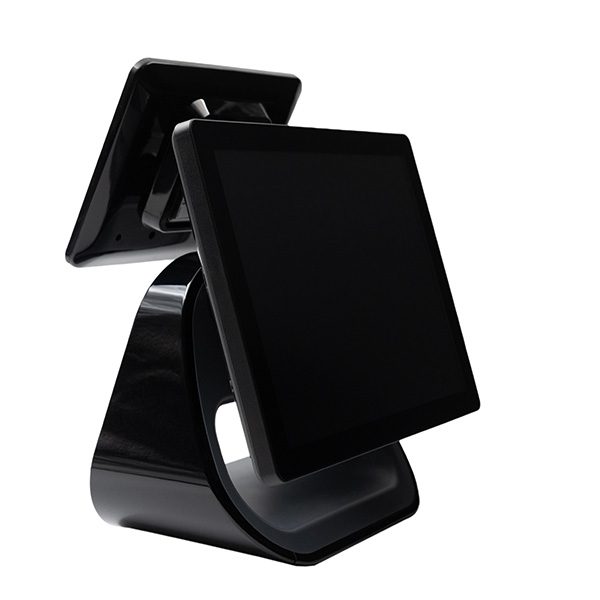 Vlarox
HANASIS ALBA POS
HANASIS ALBA POS is an innovative iteration of the famous HANASIS HIT PLUS solution, representing the latest advance in design and functionality. With a modern and sleek look, this all-in-one POS is designed to impress as well as optimize your business experience. HANASIS ALBA POS represents the vision of the future for managing your business, providing you with the necessary tools to increase efficiency and profitability. This is the perfect choice to add value and style to your business environment.
Follow us on social media: shortly, we will reveal
the innovations present at EXPO SHOP!
Fresh information, directly in
your inbox